twissis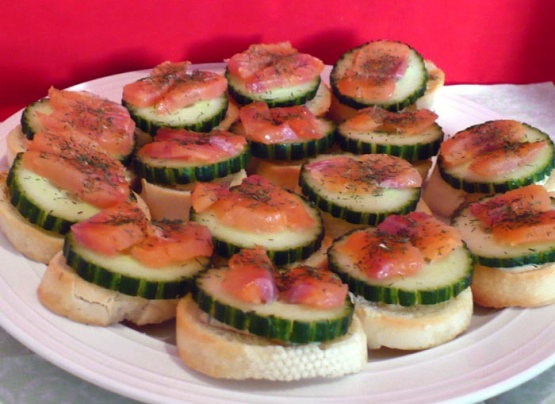 An elegant and tasty appetiser: who doesn't like smoked salmon? These Smoked Salmon Crostini - or small toasted rounds of bread - topped with smoked salmon can be prepared ahead of time, and assembled just before you are ready to serve them. This recipe has been adapted from one I found on a Canadian website.

We had our annual holiday dinner party last nite & I served this recipe w/Recipe #180812 + my Recipe #225428 as part of a combo starter plate. Smoked salmon appys are classic here in Iceland & a spec dinner w/o smoked salmon just never happens. I did make some substantial chgs, but felt they were still in keeping w/the heart of your recipe. The gravlaxsosa is very-favored here. Since it already contains the mustard element, I used it & added extra dill (dried), brown sugar & capers to it. I served 3 to ea guest, they were yummy & they looked so pretty on the plate beside the crab cakes w/the red bits of the cranberries. Tasty, easy-to-fix & make-ahead choices were my goal & your recipe easily met my goals. Thx for sharing it w/us.
Reserving some small sprigs of dill for garnishing the crostini, in a bowl, mix the mustard, dill, sugar and capers until they are well-combined, and set aside.
Heat the grill, brush the French bread slices on both sides with the olive oil, place on the grill and grill them until they are lightly browned on both sides, turning them once, about 2-3 minutes.
Spread about 1 teaspoon of the mustard mixture onto each of the toasted bread slices; add a couple of slices of cucumber, top with the smoked salmon and garnish with the reserved sprigs of fresh dill.
Chef's Notes: The cucumber, mustard mixture and toasted bread can all be prepared ahead of time. Chill the cucumbers and the mustard mixture; and assemble the crostini just before serving.