nforbis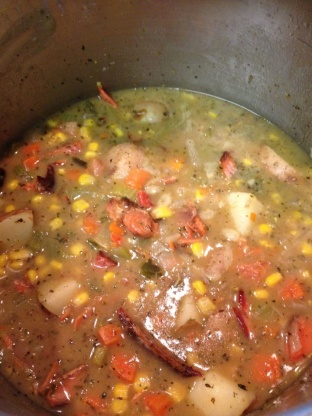 A great way to use one of those salmon gift packs you got for Christmas. Uses no heavy cream and little butter, making it pretty healthy, as the only real oil is super healthy fish oil. The Wondra flour is not essential, but i like to use--makes for a smooth soup fast. Freezes well.

Indulgent tasting chowder that really is full of healthy ingredients. This makes a BIG pot of soup. My husband loved it so much he insisted on packaging up a serving to take to his mother. The only changes I made were to use 1 tsp basil and 1 tsp oregano rather than the dill and to add some fresh mushrooms I had on hand. This is going in the permanent file, Margaret. It's delicious even though all I had was 4 ounces of Christmas gift smoked salmon packs.
drain salmon of all oil, remove skin and scrape off any dark parts on the underside.
break into chunks and set aside.
saute the onion, celery and gr pepper in butter til soft.
add Wondra or regular flour.
add 2 cans broth and stir thoroughly.
bring to boil, add potatoes and carrots.
drop to low heat and cook 8-9 minutes.
add seasonings, salmon, canned corn, and sour cream or yogurt.
heat thoroughly, then set aside while the flavors marry for a few minutes.
You may need to add some water before serving, as it can get thick.
Serve with crusty dark bread and a salad.