Smoked Salmon & Caramelized Onion Omelet ( #13)
lazyme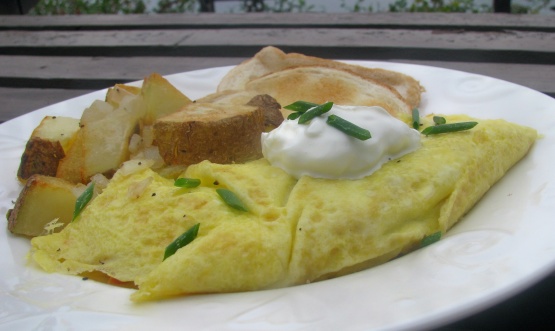 I am a little sad at the thought this is the final recipe to enter from my long-lost & newly found recipe treasure trove. BUT it does seem I have managed to end w/something I see as truly spec. (Times were estimated & prep time does include time to prepare ingredients) Enjoy!

This was heavenly. Maybe that's an impartial opinion though, because I love smoked salmon in any way, shape or form. But this was great, especially with the caramelized onions. I know I bought fresh chives not too long ago, but dang if I could find them when preparing these omelets for breakfast this morning. So instead, I use my dried chives. It was fine, but I think fresh would have tasted and look better. Thanks, twissis. Made for your awesome win in the Football Pool. Yum!
In a med bowl, beat eggs w/salt & pepper till just blended.
In a 9-in skillet over med-heat, heat the oil & saute onion (stirring often) till soft & caramelized (10-12 min).
Turn out of the pan & set aside.
In the same skillet, melt butter over med-heat.
Pour eggs into the pan & cook, lifting from the edge to let the runny portion flow underneath.
When almost set, scatter the onion & salmon over it.
Roll over 1/3 of the omelet & tilt it onto a warm plate, making another fold.
Divide omelet into 2 servings.
Spoon sour cream over the top, sprinkle w/chives & serve immediately. (Serving w/toasted bagels was suggested).