Smoked Salmon and Mashed Potatoes Salad #5FIX
Hidemi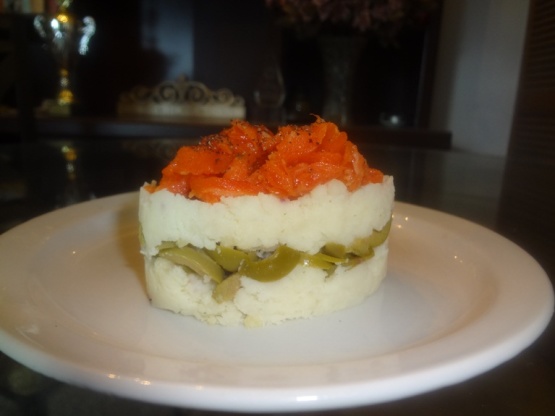 5-Ingredient Fix Contest Entry. Mashed potatoes, olives and smoked salmon salad. Season with simply olive oil, salt and pepper. Fancy appetizer.
1. In a bowl, combine smoked salmon, grated garlic and olive oil. Mix well.
2. Slice olive thinly.
3. On each serving plate, put 1/4 cup mashed potatoes, half of chopped olives and 1/4 cup mashed potatoes Press the top gently with spoon or fork and then put 1/4 cup chopped smoked salmon. Sprinkle black pepper on top. Make one more serving. (if mousse pasty ring is available, it is easier to set and looks nicer).