Smoked Salmon and Egg Bake
ImPat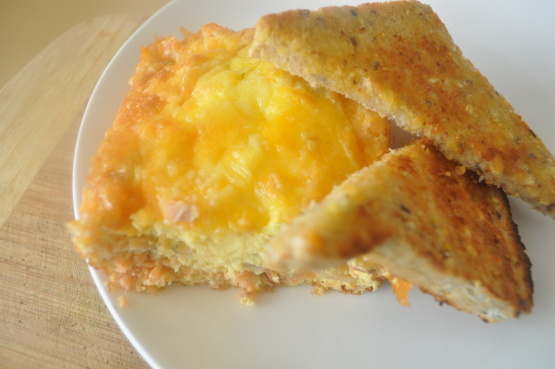 Russell made this for brunch for the two of us this morning. It is really a luxurious dish and could probably feed 3 or 4 people less greedy than us! The original recipe came from the net, but he has modified it quite a bit. I would also enjoy smaller sized pieces of this served just warm as fingerfood. Yum. Or served with a green salad for lunch. Just adding, we have made this in a round pan too, and cut into wedges (see phot) this worked really well.
Preheat oven to 180c.
Heat the oil in a small pan, add the onions and garlic and saute about 2 minutes.
Remove from the heat and add the herbs.
Whisk the eggs and cream together, add the smoked salmon and cooled onion/garlic mix.
Stir well and pour into a greased loaf pan.
Bake 20 minutes.
Top with the cheese and salt and pepper and return to the oven for about 10 minutes more, or until set.
Serve hot, topped with sour cream if you wish.