Smoked Salmon and Cream Cheese Frittata
PaulaG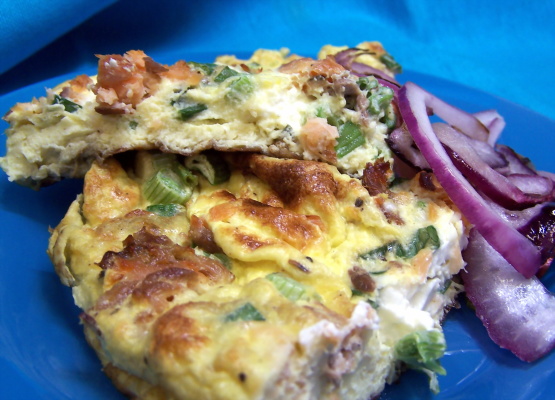 This has to be the ultimate brunch! Serve sliced red onions and warm buns.

I made this using fresh basil, otherwise, exactly as is. This is the spitting image of a recipe I've made before from Gourmet magazine, September 2003 issue. Thanks, Kittencal! Made in memory of Kitten's husband, John.
In a bowl whisk together eggs, milk, onions, basil, salt and pepper.
Preheat broiler.
Heat butter or oil in a 12-inch oven-proof skillet over medium heat until hot.
Pour egg mixture into skillet and scatter cream cheese cubes over top.
Cook, lifting up cooked eggs around edges using a spatula to let the raw egg flow underneath until the frittata is set on bottom, and egg is almost set but still moist on top (about 3 minutes).
Remove from heat.
Sprinkle salmon all over frittata, then press lightly, the shake skillet to allow salmon to settle into the top.
Broil about 6 inches from heat for 1 - 1-1/2 minutes, or until set, slightly puffed and golden in spots.
Cool 5 minutes, then loosen edge with spatula, and slide onto a large plate.
Cut into wedges and serve warm or at room temperature.