Smoked Pork Chop With Sauerkraut, Potatoes & Applesauce
Bergy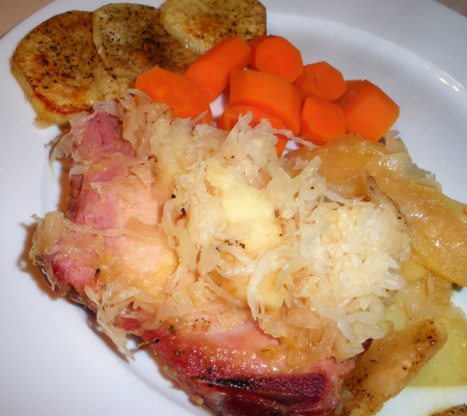 This is a throw together, pop in oven & 45 minutes later it's dinner time. I had some left over apple sauce, potatoes and a chop so I created this recipe - it was very tasty so I thought I would share the recipe. I have made this recipe for one serving but increase as many times as you wish. Add more potato if you wish.Could be cooked on the BBQ too
Place a piece of foil in a baking dish large enough to hold the chop and other ingredients. The foil must be large enough to seal over the top of the chop
Place half the apple sauce in the bottom of the dish.
Add half of the sauerkraut.
Add half the potato slices.
Season with pepper.
Coat one side of the chop with half the mustard and lay it, mustard side down on the potato slices.
Coat the top side of the chop with remaining mustard.
Add remaining applesauce, then kraut and top with remaining potato slices.
Seal the foil over the top.
Bake in 350° oven for 45 minutes.
If you wish open the foil to brown the taters for the last 15 minutes.