Smoked Paprika Lamb With Eggplant Aioli
Peter J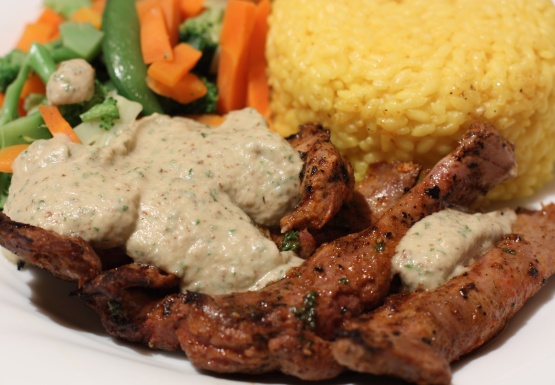 From "Alive and Cooking", a simple yet impressive lamb dish. It's actually pretty quick but the eggplant does take some time in the oven; you can do the aioli before time to cut down on the time needed.

Wonderful! The lamb was very nice but I thought the eggplant aioli was the real standout, the eggplant gave it great texture and also took away a little of the richness so a generous serve wasn't too rich and it also went well over the steamed vegies. I used lamb fillet and the only change I made was to use rice instead of couscous because I'd ran out.
Mix lamb together with garlic, paprika, parsley, lemon and oil and season to taste. Marinate for 10 minutes if desired or cook immediately by char-grilling for 5 minutes on each side, or until done to your liking.
Allow to rest for 2 minutes before slicing and serving over couscous with Eggplant Aioli and steamed vegetables such as sugar snap peas and carrots.
Eggplant Aioli:.
Bake whole eggplant on a foil lined baking tray at 180°C for 45 minutes or until soft. Cut in half, scoop out flesh and place in a food processor with the remaining ingredients. Blend until smooth, season to taste and serve over lamb. This keeps well refrigerated.