Smoked Oyster and Mushroom Soup
twissis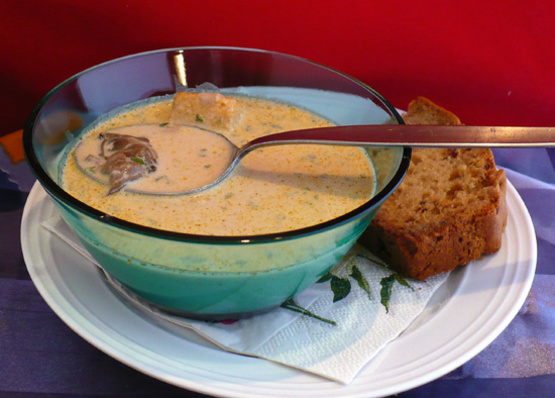 This recipe comes from local chef Marlene van der Westhuizen's lovely cookbook, "Delectable". I find her recipes, ranging from France to South Africa, simple and practical. This one has tins in the ingredients yet manages to be sophisticated and quick to make. Do double the recipe if you like: this starter soup for 4 is rich so servings are small.
396.89

g mushroom soup (1 tin, best quality)

85.04

g smoked oysters (1 tin, 85 g)

236.59

ml cream, fresh and thick (250 ml)

51.76

ml dry sherry (50 ml)

29.58

ml parsley (very finely chopped)
Heat the soup, stirred well, in a saucepan, but do not boil!
Halve the oysters and add, together with the cream and sherry.
Stir and heat, and again do not boil.
Serve in small, warmed soup cups or bowls, and garnish with the parsley and a generous grind of black pepper.
Serve with slices of brown bread.