Peter J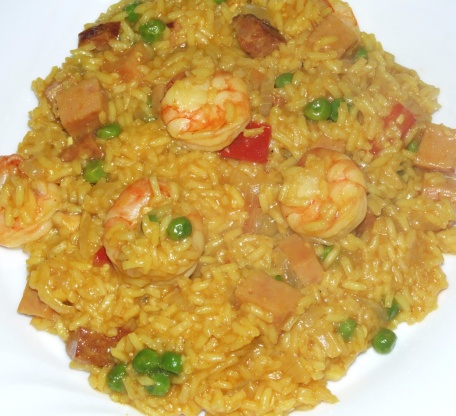 Paella is a great dish to master, because you can ring the changes with seemingly endless combinations of meat, fish and vegetables. The paprika and turmeric give this dish its distinctive colour and flavour.

i needed something diffrent 2 make & this recipe was right on time!!!! my boyfriend rate it fr/ a scale of 1-10 a 10++++++ it was so tasty mmmmm....thanx i will be makin this one again (:
Heat the oil in a large frying pan and cook the onion for 3-4 minutes until softened and golden. Add the red pepper, garlic and rice and stir fry for 1 minute. Add the ham, stock, paprika and tumeric, bring to the boil and simmer for 12 minutes.
Stir in the prawns and peas and cook for a further 3-4 minutes, until the rice and vegetables are tender. Season to taste, then serve immediately.