Chilicat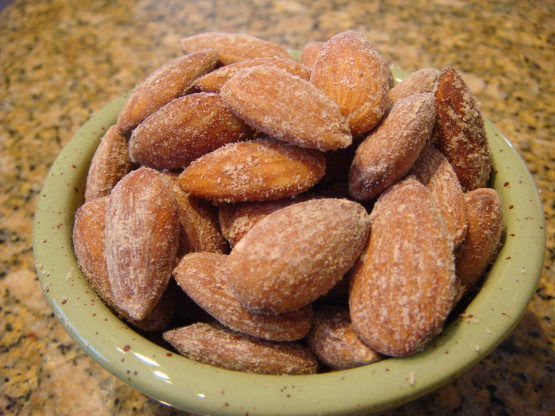 These taste like the real smokehouse almonds you buy in the store for a huge price. I made these last Christmas for a bazaar and just found the recipe again. They are good even in the middle of summer. I have also used a combination of mixed nuts and they are still good.
I had to make a second batch of these because the first ones (the ones I made as written) didn't turn out very well. Just a few notes...don't use salt that is at all coarse or it won't stick. I finely ground the salt for the second batch and it went much better. Also, I switched the measurements on the second batch (1 tsp. flour and 2 tsp. salt) and it turned out with much better flavor, though I might cut it back to 1-1/2 tsp on the salt next time. They were pretty close to the canned ones, though not exact. I used them in my broccoli salad and it turned out great.
Pour cooking oil over almonds in bowl.
Toss to coat well.
Spread on ungreased baking sheet.
Bake in 275 degree oven for 45 minutes.
Remove from oven.
Pour nuts into medium bowl.
Sprinkle with liquid smoke.
Toss to coat well.
Mix flour and salt in cup.
Sprinkle over almonds.
Toss to coat well.
Spread on same baking sheet.
Bake for 20 minutes.
Cool.