Smoke Stack Cheesy Corn Bake
Myrab51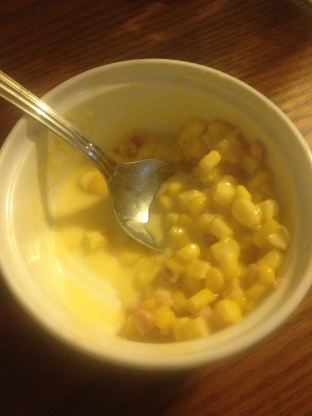 This recipe is credited to Fiorella's Jack Stack Barbecue in Kansas City, MO. Nothing like Kansas City barbecue, and this is a very popular side dish served at the "Stack."

As a Kansas Citian - I have a great appreciation for SmokeStack and they're Cheesy Corn Bake is no exception. I make the recipe as printed with a few minor changes. I increase the garlic to 1/4 tsp, add 1/4 tsp of ground black pepper and about 1 Tbsp. of heavy cream when folding in the corn and ham. Delicous!!
Melt butter; stir in flour and garlic powder.
Add milk; cook & stir over medium heat.
Heat until thick and bubbly; stir in cheeses. Cook/stir over low heat until cheeses melt; stir in corn & ham.
Bake in 2 qt casserole for 45 minutes at 350.