Smells Like Vacation! Oatmeal Cookies
Katzen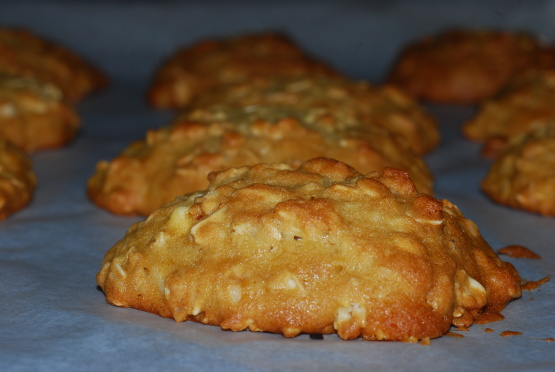 I just invented these to use up some pineapple and chopped nuts. If I make it public, you can assume the experiment went well :).

Top Review by Katzen
Well, I had 2/3 cup of pineapple from a can I used for a devine banana bread, recipe #87282. Well, the obvious thing was to make a double batch of these cookies! And am I ever glad I did! Smelly, you have the absolutely bestest recipes for cookies! I still dream of your recipe #320307 (so do my parrots!) Anyways, back to these cookies! They're wonderful, slightly fluffy (don't flatten out like some cookies do), are simple to make, and deliciously different! I will admit to bumping up the macadamia nuts, coconut, and white chocolate chips, though - and I'm glad I did! Oh, and I used a regular egg. Well, two, since I doubled the recipe. Deeeeelish! Thanks for posting, Smelly! Made for Veggie Swap 20.
1

cup flour

1

cup oatmeal
1⁄3 teaspoon salt
1⁄2 teaspoon baking soda
1⁄3 cup crushed pineapple (include some juice)
1⁄4 cup Smart Balance butter spread
1⁄3 cup brown sugar, packed
1⁄8 cup sugar, plus

1

tablespoon sugar
1⁄4 teaspoon lemon extract (rum extract might be good, too!)
1⁄4 cup egg substitute (use a whole egg if you don't like cakey cookies!)
1⁄4 cup coconut
1⁄4 cup macadamia nuts, chopped
1⁄3 cup vanilla baking chips (I chopped some of these)
Preheat oven to 375.
Blend sugar, butters, and pineapple well. Add egg and lemon extract, mix again.
Add dry ingredients and mix well. Fold in vanilla/white chocolate chips, coconut, and nuts.
Drop by even tablespoons onto an ungreased cookie sheet.
Bake 10-11 minutes, or until golden.