Karamia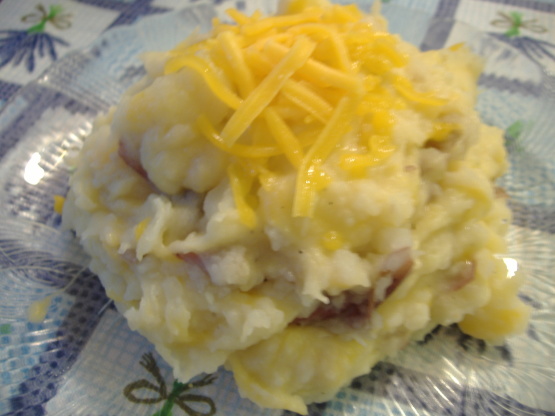 If you prefer smoother mashed potatoes, just peel the potatoes before cooking them. From Woman's World, April 24 2007.

Very good! And so easy. A must try for anyone who loves potatoes! This is a keeper! Next time I will add some bacon bits to see how that will be. I am sure yummy! Thanks for a crowd pleasing recipe!
In large pot, combine potatoes with enough salted water to cover. Bring to boil. Cook until tender, about 20 minutes; drain.
In same pot, heat milk, butter, salt and pepper over low heat until hot and butter is melted. Add potatoes; mash until mixture reaches desired consistency.
Set aside 2 Tbsp cheese. Stir remaining cheese into potato mixture. Transfer to serving bowl; sprinkle with remaining cheese and, if desired, parsley.