Small Batch Icing- to Write on Cakes
Lana S.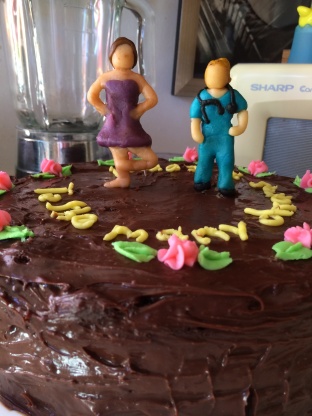 Sometimes you just need a small amount of icing to write on a cake or cookies. I don't like buying those ready made tubes because they're so expensive for such a small amount of icing. They don't taste that good either. Here's the recipe I use when I just need a small batch. You can tint it any color you want by adding food coloring. The paste coloring is best but the drops will work fine, too.

This recipe is just what I needed to finish a chocolate cake that a friend wanted to celebrate his birthday. I baked a three layer chocolate cake with chocolate frosting, pulverized walnuts and unsweetened coconut between the layers and on top. I like these ingredients and prefer orange extract instead of vanilla because chocolate and orange are a perfect combination in my opinion. I needed a recipe for a small amount of frosting to write Happy Birthday and his name on top of the cake. I substituted orange extract for the vanilla extract in the recipe, and added a little tumeric, clementina zest, and maraschino cherry juice to give it a nice orange color. I wanted to make it a bit sweeter so I added a packet of stevia and a packet of orange drink mix, which turned out the way I hoped it would--nice. I think everyone (especially the birthday boy) will be pleased. I circled the cake with semi-sweet chocolate chips to trim the cake and emphasize the chocolate that he requested.
In a large bowl, combine sugar, shortening, water and vanilla. Beat on low speed to combine, then beat on medium speed for a full five minutes. It won't look like Icing at first, but keep the mixer going for a full five minutes, and then you're done!
Note: If you're not using this for decorating, but just for icing the cake, thin the icing by adding 3 tbs. of corn syrup, or water to the icing.