Små Flødekager -Small Cream Cakes - (Danish)
Pneuma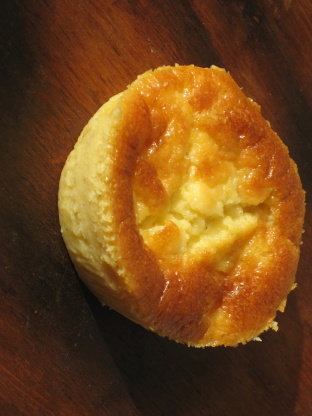 These are quick and easy, light and airy little cup cakes.You can add icing if you like. We enjoy them plain.

Top Review by Pneuma
These are yummy fresh from the oven. They taste like egg custards. At first I thought they were done when they looked a bit firm and had a speck of brown in it, so took them all out except 3 which still looked soft. The remaining ones in the oven that became brown (not burnt!) shown that they rose 1/4 in size and 1 of those that was outside the oven has collapsed a bit in the center so I returned them all in again and they still did rise a little and when cooled they'd go down a bit in the center but not as much as the first time and were firmer. also placed leftover lemon cream from Recipe #223833 which was about 2 tbsp so they gave a very very mild hint of lemon. Finished 2 servings of 12 as I write this. Great to have also to serve for visitors. Thanks, Marlitt!
Preheated oven to 350ºF.
Butter and lighlty flour muffin tins.
Whip the cream until its stiff, set aside.
In a separate bowl beat the eggs with the sugar.
Add the sifted flour and ground cardamom and mix thoroughly.
Fold in the whipped cream.
Half fill the muffin tins and bake 10 minutes 350ºF oven, or until golden brown. Frost as desired.