Rita~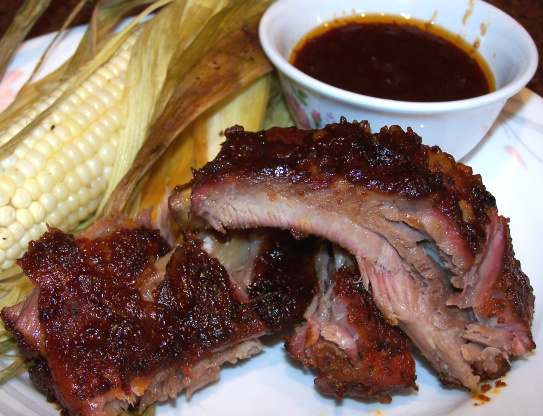 temperature about 200 degrees, smoke and patience. A full rack of ribs can be smoked in about 4 hours but do take the time and go the distance. The longer you smoke the more flavor you will get. I'm using a mustard rub to form a nice crust. Remember that you need to hit an internal temperature of 165 F before they can be served. Have a meat thermometer ready.
Great post! Thanks. A little twist on the standard 3 - 2 - 1 method which gives a little more smoke flavor. Always turns out nice and juicy. Try adding a little apple juice in the foil during the second step for a little extra steam and sweetness. If your temp comes up to 225 you're still good too just not over that. Good to see some posts for real smoked ribs for a change instead of the "bake at 350 degrees for 2 hours... ribs will fall off the bone" posts that turn out tasteless leather ribs. As far as ribs go patience is truly a virtue and well worth the wait.
Prepare ribs:.
Let the ribs come up to room temperature, rinse off in cold water and remove the silver membrane from the back. You don`t have to remove it but I find the membrane blocks the uptake of smoke and creates a barrier to your rubs.
To remove the membrane, lay the ribs on a flat surface meat side down. Take a sharp knife and begin peeling the membrane from one corner near the bone. Once you have a good piece peeled back, grab it with a paper towel to get a good grip and begin pulling. Once the membrane is removed rinse off the ribs again and pat dry with some paper towels.
Mustard Rub:.
Mix rub mixture together.
Then rub the mustard rub mixture over the entire surface of the ribs.
Once the pork ribs are seasoned and the smoker is ready then you are set to go. Using a blend of oak, hickory and a little mesquite in the firebox,or what you prefer.
Place the ribs in the smoker and let it go. You want the good smoking temperature in the area about 200 degrees. You can go lower if you plan on doing a long smoke, but I don't go higher.
After smoking for 2 hours. Then wrap the ribs in heavy duty foil and keep going for 2 more hours. Creating fall off the bone ribs! Then unwrap for one hour.
To serve I cut the ribs inIf you want crispy ribs blast the heat on the grill and char them.
If you want extra sweet, spicy, sticky goodness dip into your favorite BBQ sauce. Apply the sauce when the foil comes off, but for crispy ribs apply after crisping. If you want extra smoke go ahead and add more wood when unwrapping the ribs.
Let ribs sit for 10 minutes before cutting into servings.