k2oneal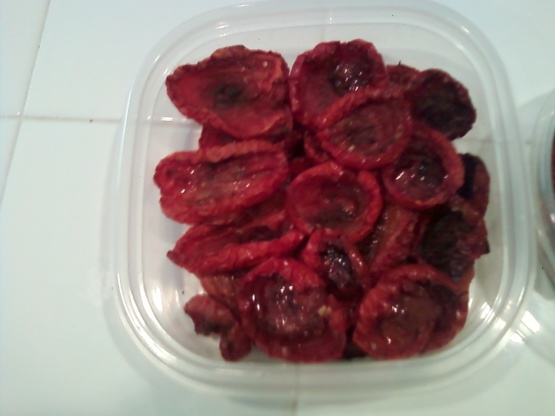 Adapted from a Martha Stewart recipe. These are amazing on their own as a side dish or with pasta.

This is a great way to make a BLT sandwich at the time of year when the tomatoes are far from their best! I scaled the recipe in half & had LOADS of the spice left. I set the timer for 3 hours in my first attempt at this recipe - it was too long! I then roasted another 4 tomatoes at 250F, checking them every 30 minutes and they were ready in 2 hours! (BTW, my stove is less than a year old).
Heat oven to 250.
Slice tomatoes thickly, to yield about three slices per tomato.
Place on a baking sheet.
Mix spices and sugar.
Brush tomatoes with olive oil, and sprinkle with a large pinch of seasoning mixture.
Roast the tomatoes for 3 hours.