Slow Roasted Leg of Lamb With Oregano and Lemon
ImPat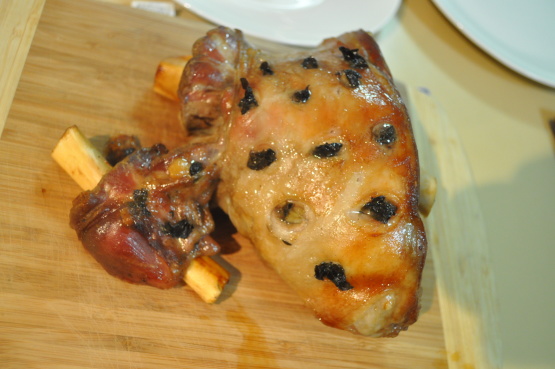 From an Australian Women's Weekly Cookbook. This is lemony but yummy, discard the roasted lemon pieces.

Top Review by ImPat
I only made the lamb component of this which was 1.5k did the initial 30 minutes at 250C fan forced and then turned down to 170C fan forced thinking it would be ready in 2 hours, basted every 15 minutes and just over an hour later it was cooked to well done (which is how we like it) and as it was going to be an hour before the recipe #171945 would be ready I turned the lamb down to 100C non fan and did my potatoes in the top oven. The lamb was lovely and moist though the DH thought it had a slightly crockpot taste but was still good. We did have an unfortunate incident with the gravy, as the DH was pouring it into the gravyboat the pot (heavy caste iron) slipped and smashed the gravy boat but was able to salvage enough gravy from the pot for the photo and to give everyone a taste. Thank you Jan, made as a recipenap/pressie for Aussie/Kiwi Swap #41 June 2010.
Preheat oven to hot.
Using sharp knife, pierce 12 cuts into lamb; press garlic and oregano into cuts.
Place lamb in large flameproof baking dish; pour wine, stock and juice over lamb.
Cover tightly; roast lamb in hot oven 30 minutes then reduce temperature to moderate; roast lamb, covered tightly, brushing occasionally with pan juices, for a further 3 hours or until lamb is extremely tender.
When lamb has about 1 hour left to roast, place potato, lemon and olives in separate baking dish; drizzle with oil, and place in oven; roast, uncovered, until browned and tender.
Transfer lamb to serving dish; cover to keep warm.
Heat 1 tablespoon of the reserved lamb juices in same flameproof baking dish; stir in flour.
Cook, stirring, until mixture is well browned.
Gradually stir in remaining lamb juices and the water; stir until gravy boils and thickens.
Slice lamb; serve with potato mixture and gravy.