Parsley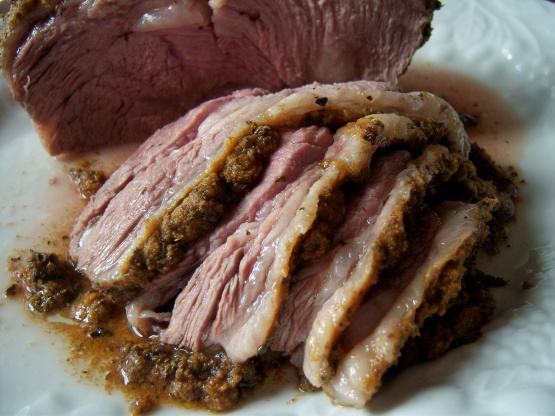 Variation of a recipe I found on the ABC site. They included a serving suggestion but there are plenty of great sauces on RecipeZaar so I omitted that section. Personally I served with Yoghurt and Mint Chutney but thought I'd leave this as an easy to prepare basic techique you can adapt yourself.

I skipped the water and oil but added white pepper - and cooked it at 305 for 2 1/2 hours. I can't believe how delicious it tasted. This recipe was extremely easy and quick to prepare. This was the first time I ever cooked a lamb leg without garlic and rosemary. It didn't at all taste like cumin. This will be my recipe from now on.
Mix cumin, coriander and salt together and rub over all the lamb.
Sit lamb in roasting pan and drizzle with olive oil.
Pour water into roasting pan and cook in oven for around 4 hours at 140C / 285°F or until internal temperature is 65C / 150°F (for medium).