Slow-Rise Pizza Crust (King Arthur Flour Co.)
neecewms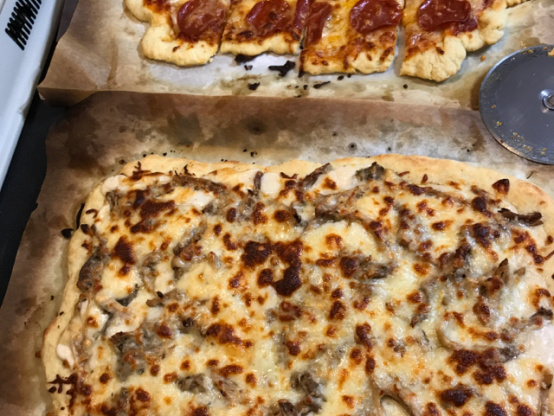 This is the only crust recipe I use anymore. I found this recipe in a copy of the Baker's Catalog some years ago. It really tastes best when you let it sit for a longer time, although you can get by with the short end of the range if you are in a hurry. I try to make it the night before and let it sit for about 24 hours. Since you don't knead it very much, bread flour wouldn't be a good choice--all-purpose works better for this recipe. Likewise, a bread machine wouldn't work well as it would overwork the dough. The original recipe stated crust can be used for either baked or grilled pizza, although I've never made grilled pizza and couldn't say how to do it. Prep times are estimates, and don't include rising or refrigeration times. NOTE: the "dough enhancer" listed in the ingredients is actually a dough improver, which relaxes the dough to allow for easier shaping of the dough. In addition, the recipe called for King Arthur Flour's pizza flavor (optional), which I am unable to list. It was just a crust flavor enhancer, containing cheese, garlic, and such. Both are available from the Baker's Catalog at www.kingarthurflour.com/shop/.

So easy and good! I added 2tbsp parmesan, 3/4tsp garlic powder and 1tsp Italian seasoning to the dough, in lieu of the King Arthur flavor enhancer. It was so easy to mix up, and I couldn't believe that it actually grew overnight in the fridge! It chilled for about twenty hours, and I let it sit at room temp for about 30 minutes before rolling out. It baked up nice and chewy, which we like.
Mix together all dough ingredients and knead on a lightly-floured surface until smooth and soft. Do not over-knead; dough should hold together but look rough on surface.
Allow to rise in a warm place, covered, for 45 minutes.
Refrigerate dough for 4-36 hours, to allow dough to slowly rise and develop flavor.
Shape into a 12-14 inch circle, brush with olive oil (if desired), and bake on a pizza stone or greased pizza pan at 400* F for about 10 minutes, or until just beginning to turn golden.
Top and bake as desired.