Slow Cooker Tuscan Pot Roast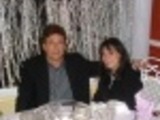 I love my slow cooker, and I love to make pot roasts. There are so many variations, and I think I've tried them all. However, this is one I really like, and return to again and again. I like to serve this with some garlic mashed potatoes for a fully flavorful meal.
Directions
Heat the oil in a large pan over medium-high heat and brown the roast on all sides. Transfer the roast to a 4- to 6-quart slow cooker.
To the oil remaining in the pan, add the onions, celery, carrots, and garlic. Cook, stirring frequently, until tender, about 10 minutes. Add the tomato paste and stir to coat the vegetables; transfer to the cooker.
Pour the wine into the pan and deglaze, scraping up any browned bits, then pour the contents of the pan into the cooker. Add the mushrooms, salt, oregano, and tomatoes (as well as about 1 cup of their liquid). Cook 8 hours on low heat, or 4 hours on high heat.
Reviews
Most Helpful
Although I pretty much followed the recipe, i did cut back on the olive oil, using just about 2 1/2 tablespoons, which was plenty, I thought! I also left out the mushrooms as I really do like 'em, at the most, just slightly cooked! Other than those changes, it was the recipe as given, & we had ourselves a wonderfully flavorful roast dinner! Made for some left-overs, too, which is always a plus in our house! [Tagged & made in Please Review My Recipe]
This was tasty. I cut back on the tomato paste and tomatoes since I had a small roast and used fresh mushrooms. Served with garlic mashed potatoes Made for Evryday is a Holiday Tag

This is delicious! I followed the directions very closely. The only thing I would change is the amount of oil - neither my roast nor the veggies absorbed much of it, so I ended up pouring off at least 3 TB before adding the tomato paste. So next time I will only use about 3 TB to start with. This made a LOT of juice, and I plan to use the remaining roast with the juice and add some broth to make a leftovers minestrone. Served with mashed potatoes as suggested. Thanks for sharing this recipe.