Slow Cooker Teriyaki Chicken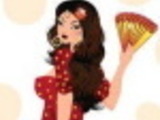 So tender and delicious!
Make and share this Slow Cooker Teriyaki Chicken recipe from Food.com.
Directions
Spray the inside of your pretty crock pot with cooking spray.
Place chicken breasts into the pot. If you are using chicken that has been frozen, be sure that it is completely thawed before you add it to the crock pot.
In a separate bowl combine water, brown sugar, soy sauce, garlic and sesame oil. Stir to combine and then pour it over the chicken.
Cover the crock pot and cook on high for 4 hours, or on low for 7.
When the chicken is cooked remove it from the crock pot and place in on a plate.
In a small bowl combine corn starch and cold water. Pour it into the crock pot and stir it in thoroughly.
Take two forks and break the chicken breasts up a bit. I don't like to shred mine up too much, just enough that the sauce has a chance to spread through the chicken.
Place the chicken back into the crock pot and stir it around allowing the sauce to mix with the chicken.
Cover the crock pot and let the mixture cook and thicken for 30 minutes.
Serve over rice. Enjoy!