Slow Cooker Sweet and Sour Chicken
Kathy228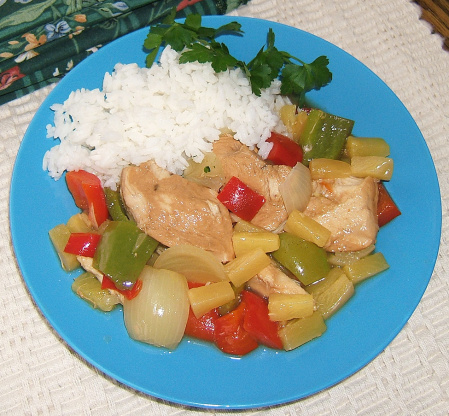 This is a healthier and hearty version of this dish. It cooks all day for you and is great on those busy nights.

Everyone really liked this dish. My son declared the chicken delicious; it was tender and not dry. I cut each breast into four pieces. The sauce was very flavorful. I thickened it with arrowroot. The recipe was well written and went together easily. Served it with white rice and sliced cucumbers and oranges. I added some green pepper for color. I will make this again. Nice recipe Annacia.
Spray inside of slow cooker with cooking spray.
Place chicken breasts in slow cooker. combine pineapple syrup, broth, vinegar, brown sugar, garlic, and soy sauce in small saucepan.
Cook over medium heat, stirring frequently until sugar dissolves.
Pour mixture over chicken.
Cover and cook on high heat for 1 hour.
Add pineapple chunks, onion, bell pepper; cover and cook on low for 6-8 hours.
Combine cornstarch and water in a small bowl and mix until smooth.
Add mixture to slow cooker and stir to mix. Cover and cook on LOW for 30 minutes.