Slow Cooker Sugared Pecans & Walnuts
GeeWhiz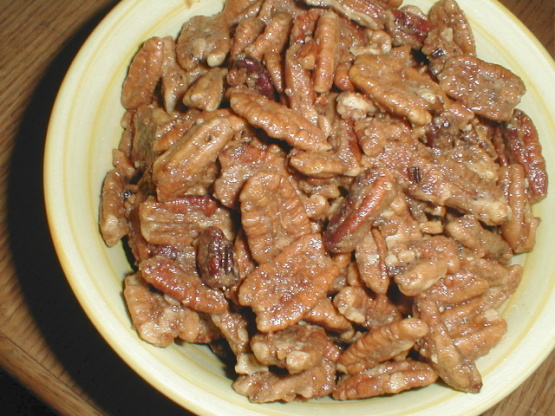 I had been assigned to bring toasted pecans to a meeting on Monday. I was having company on Sunday and needed a quick and easy recipe. This recipe turned out perfect. I did add some grated nutmeg. I found the consistency perfect. I had never cooked toasted pecans before.
Preheat slow cooker/Crock Pot on high for 15 minutes.
First, in preheated slow cooker/Crock Pot stir the walnuts (or pecans) and butter until mixed well.
Add the powdered sugar, stirring to coat evenly.
Cover and slow-cook on high for 15 minutes.
Reduce the heat to low and slow cook, UNCOVERED, stirring occasionally, until the nuts are coated with a crisp glaze (should be about 2 hours.) Transfer the nuts to a bowl.
In another small bowl, combine the spices and sift them over the nuts, stirring to coat evenly.
Let cool before serving.