Slow-Cooker Steak Chili (Crock Pot)
Annacia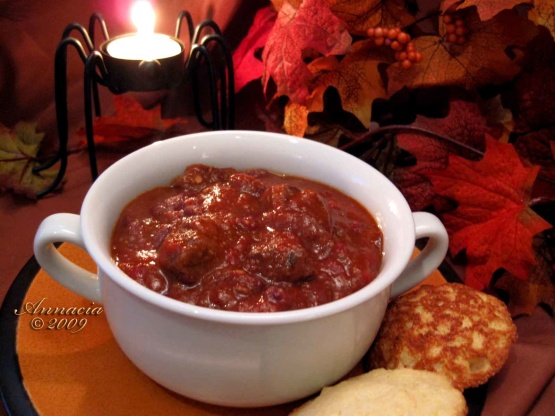 At first glance there are a lot of ingredients, but they are mostly items that you would have on hand, such as herbs and spices. Another yummy and healthy recipe from Gooseberry Patch. They have an interesting way to thicken the chili before serving. Check out the garnishes listed after the regular ingredients for some suggestions. Enjoy!
Not great and not terrible; I feel I will never revisit this recipe again. I am the type of cook that follows recipes to the letter because I lack the skills to "tweak" a recipe to meet my taste buds. I found it to be to tomato-y not enough cumin and chilli flavor. I also was not crazy with the look, texture and taste of the "flour/cornmeal" thickening. I'm thinking I could try to make changes; but why bother, I'll just try another one. I feel adjusting this recipe could yield a delicious chilli.
Heat oil in a large sauté pan over medium heat; add steak, onion and garlic. Cook over medium heat until steak is browned and onion and garlic are translucent.
With a slotted spoon, remove steak, onion and garlic to a slow cooker, leaving juices behind in pan. Add one cup water, celery, beans, tomatoes with juice, salsa, tomato sauce and seasonings to slow cooker; stir. Cover and cook on low setting for 8 hours.
Shortly before serving time, whisk together flour, cornmeal and remaining 1/3 cup water until smooth. Add mixture to simmering chili; stir for 2 minutes, until thickened. Garnish as desired.