Slow Cooker Split-Pea Soup
ImPat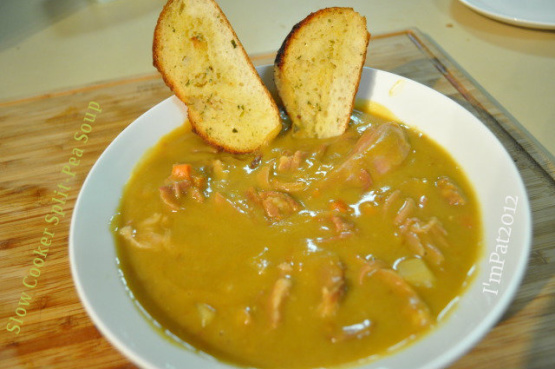 With the very cold temperatures in January this soup from Mable Hoffman's "Crockery Cookery" will warm your family all the way through, and you will love the ease of preparation. I love to serve Irish Soda Bread with pea soup.

Top Review by ImPat
Scaled this back to use 1 ham hock as that is all my crock pot will fit and just so enjoyed the extra vegies in the soup along with meat from the smoked hock. I cooked for 9 hours and when I went to remove the hock the meat just totally fell of the the bone and I scooped out as much of the meat as I could and well I could cut it into small sizes with a spoon it was just so tender, I gave the vegies a light blitz with the stick blender before returning the meat to the pot and enjoyed a wonderful soup for tea/dinner with some crusty garlic bread, thank you S. Merrill, made for Bargain Basement tag game..
Combine peas, ham bone or hocks, carrot, onion, potato, sausage, celery, water, salt (if using)and pepper in a slow cooker. Cover and cook on Low 8 to 10 hours.
Remove ham bone; cut meat off bones, dice meat, and discard bones.Return meat to soup.
Taste and add salt, if needed. Serve soup hot.