CoffeeB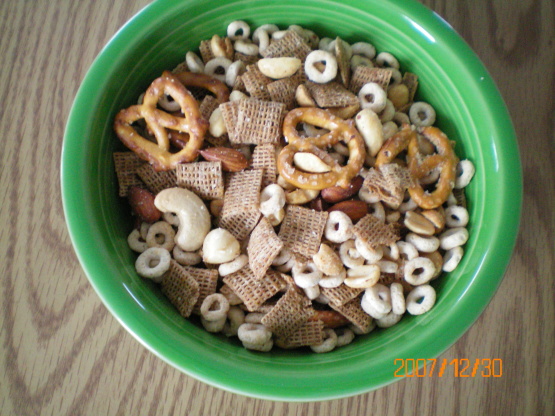 A very easy way to make snack mix. If desired, reduce the cereals to 3 cups each and add 3 cups of corn chips.

Top Review by Ling76
This was a great recipe. I made modifications based on what i had in the pantry & to increase the fiber intake: 4 cups wheat cereal, 4 cups multigrain cheerios, 1.5 cups of bran cereal (stick/twig variety), 1 cup dry roasted peanuts, handful shelled sunflower seeds. I didn't have seasoning salt so i used garlic salt instead. I received rave reviews from everyone who tasted. I used a wide slotted scooper to filter the crumbs out of the mix, as i packaged it in cone shaped cello bags
Combine cereals, pretzels, and nuts in a large bowl and set aside.
Combine remaining ingredients in a small bowl and pour over cereal mixture and toss gently until combined.
Pour into a large slow cooker and cover and cook on LOW for 2 1/2 hours, stirring every 30 minutes. Uncover and cook for an additional 30 minutes.
Store in an airtight container.