Slow Cooker Shrimp & Sausage Jambalaya
Rayndrop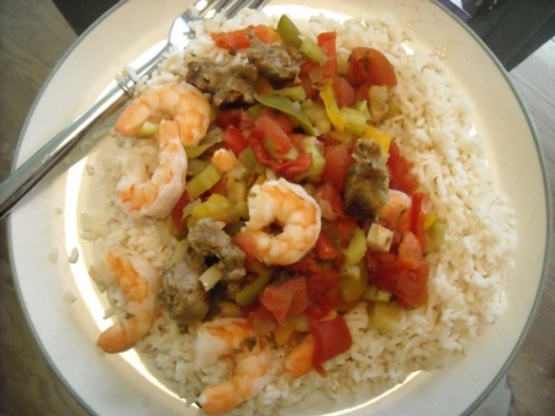 This is very easy and wonderful to come home to after a long day at work. Even after cooking for 8 hours the vegetables are crisp and tasty. I use 1 tablespoon bayou blast (emeril) instead of red pepper sauce and turkey kielbasa for the sausage. I cook my rice in a rice-cooker. My teenagers say it is the best meal that I make. What an easy & tasty dinner this is!
Made it as listed used Rotel and turkey sausage and it turned out wonderful.Even my picky son loved it and I hate shrimp but added it to this one for my wife with the intent of picking it out of mine,but I actually liked it.The shrimp soaked up all the yummy juice and is the only shrimp I've ever eatten that I liked.Thanks for sharing
Mix all ingredients except shrimp and rice in a large slow cooker.
Cover and cook on low setting 7 to 8 hours (or high for 3 to 4 hours).
Stir in shrimp. Cover and cook on high heat about 1/2 hour or until shrimp are pink and firm.
Serve with rice.