Slow-Cooker Roasted Beets
Debbwl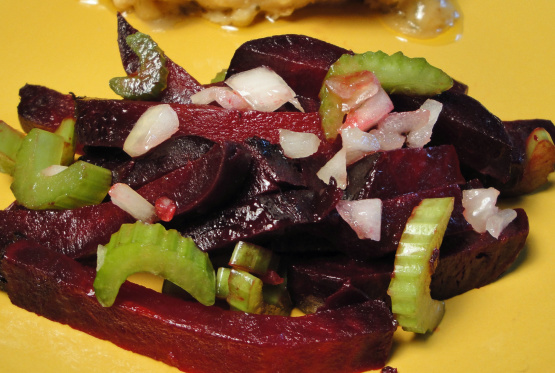 I can often get a large package of beets for a dollar or so at the reduced produce rack, but then need to use them up fairly quickly. Taking a cue from a couple of other recipes, I've found that roasting them in the slow cooker works really well. I just entered the number of beets I used most recently, use whatever amount you have.

Top Review by Debbwl
Ok the beets cooked perfectly but the crock pot blowup. Not sure what happened but at the three hour mark I heard a loud cracking pop and Ahhh my crock pot had cracked (have never seen or even heard of one splitting like this during cooking. Anyway the beets were fine and were made into a nice beet salad. A quick note do not worry about peeling them as I was so upset about the crock pot I just started slicing and the skin just slid right off the slices. Thanks so much for the post.
10 -12

medium beets, well scrubbed
aluminum foil
Wrap each beet in aluminum foil.
This number of beets fit comfortably in a 6 qt slow cooker.
Set to High and cook for 3 to 5 hours. Test by piercing one of the larger ones for doneness.