Slow Cooker Lamb Shanks Braised in Guinness
lazyme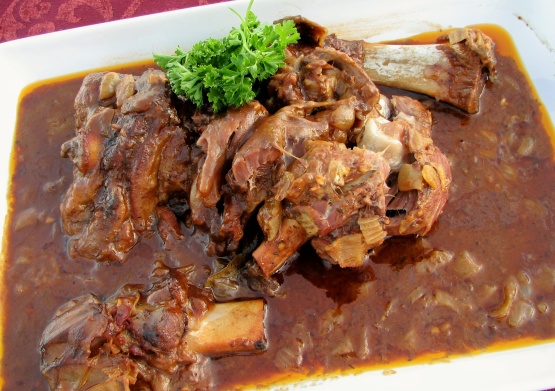 The ultimate comfort food. Serve with mashed potatoes to soak up the ambrosial sauce.

Tried this for Fall PAC 2011. Delicious! We may cook ours a little shorter though as the shanks were pretty much obliterated! As were the onions. Beautiful smells eminated throughout the house the entire day teasing us until we enjoyed the meal with mashed potato and veg. Thanks Connie :)
Lightly coat shanks in flour seasoned with salt and pepper.
Reserve left over flour mixture.
In a skillet heat oil.
Add lamb in batches and cook until browned.
Transfer to slow cooker.
Reduce heat and add onions, to pan, cook till softened.
Add garlic,thyme, bay leaf and reserved flour cook 1-2 minutes stir in tomato paste, mustard, beer & broth.
Pour over meat.
Cover and cook on low 10 -12 hours or on high 5 - 6 hours.