Slow Cooker Ginger-Beef Noodle Soup
Edesia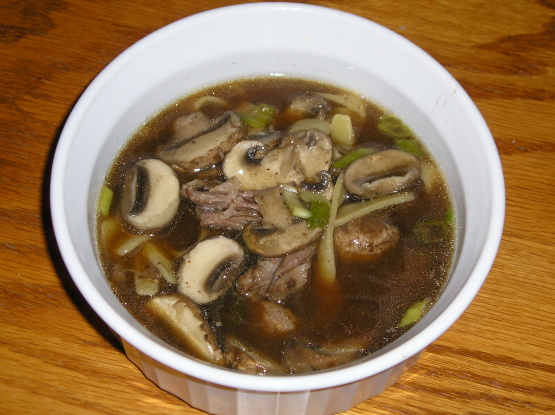 Recipe is by Grace Parisi, posted at foodandwine.com.

Top Review by Edesia
This is a really tasty soup! I used 1/2 tsp Chinese five spice instead of the star anise pod because I didn't have it. I also used cremini instead of shiitakes because my store didn't have them. Very good. I'll definitely be making this soup again. Thanks for posting.
In a slow cooker, combine the meat with the broth, water, soy sauce, ginger, onion, garlic and star anise. Cover and cook on high for 4 hours, until the meat is tender. Transfer the meat to a plate and let cool slightly. Using 2 forks, pull the meat into thick shreds.
Strain the broth, discarding the solids. Return the broth to the cooker. Add the shiitakes, scallions and shredded meat. Cook on high for 15 minutes, until the mushrooms are tender.
Meanwhile, bring a large saucepan of salted water to a boil. Add the noodles and cook until al dente. Drain well.
Add the noodles to the soup. Serve in deep bowls, passing the sesame or chili oil at the table.