Slow Cooker Easy Spicy Sausage Soup
Heydarl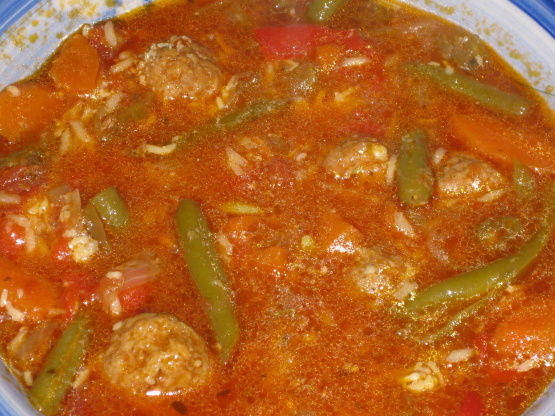 A Delicious Easy Spicy Soup you can throw into the crock pot in the morning :) My prefrence is 1/2 Lb each for the meats but if you like a lot of meat feel free to use the whole ammount :) Goes perfect with cornbread too!

I was nervouse about this one, but it turned out great! I followed the recipe exactly. I wasn't sure if there would be enough broth, but the condensation from the slow cooker made all of the broth. My husband loved it and it will be in my rotation of recipes from now on! Thanks!
Combine the beef, sausage, and onions together, and roll into balls.
Spray Crockpot with pam and place meatballs inside.
Mix together the remaining ingredients (but NOT the rice!) and pour over the meatballs.
Cover, cook on low 6-8 hours.
20 minute Before serving, stir in the rice and replace the lid.
Enjoy!