Slow Cooker Cinnamon Carrots
Annacia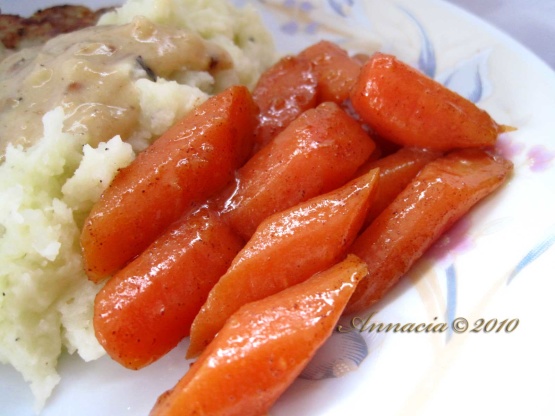 a great slow cooker dish, that can go real well with a pot roast, or a steak dinner. Got it from a friend.

Tried this recipe for a work party. Not only was it easy as pie but was a HUGE hit. Now have been asked to make it for Christmas dinner.
Put carrots in 3 to 4 quart slow cooker sprayed with vetable cooking spray.
Ina large bowl, combine brown sugar, honey, orange juice, butter, and cinnamon, and mix well.
Pour overcarrots and mix so that sugar-cinnamon mixture coats carrots.
Cover and cook on low for 31/2 to 4 hours and stir throughly each hour during cooking time.
About 15-20 minutes before serving transfer carrots with a slotted spoon to serving dish and cover to keep warm.
Pour liquid from cooker into a saucepan, then boil for several minutes until liquid is reduced in half.
Spoon over carrots in serving dish.