Slow Cooker Chicken With Olives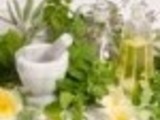 This recipe has a bit of Spanish influence, but easy to make and great to eat.
Directions
Combine all ingredients except chicken in a 4-1/2 quart crock pot. Mix well.
Add chicken, stir until well mixed.
Cover and cook on HIGH heat setting for 5 hours or LOW heat setting for 8 hours or until chicken is cooked through and tender and potatoes can be easily pierced.
Discard bay leaf.
Remove excess fat on the chicken before adding to the post.
I made 1/2 the recipe with success.
Most Helpful
Delicious. We'll make this again and again for sure.

This was a really tasty dish. I liked it a bit more than my husband but we both enjoyed it. I used boneless/skinless chicken breasts, and 5 small potatoes. I doubled the garlic and cooked with frozen chicken breasts on low for 5.5 hours and it was perfectly cooked. I served this with a side of pasta to serve the sauce over (since my kids don't like potatoes). The smell while it was cooking was wonderful. Will make this one again. Really enjoyed it. Thanks for posting!

Really wonderful! I used 1/2 cup of dry white wine instead of the chicken broth and added some minced garlic. A real hit.