Slow Cooker Chicken & Sausage Gumbo
S49erfan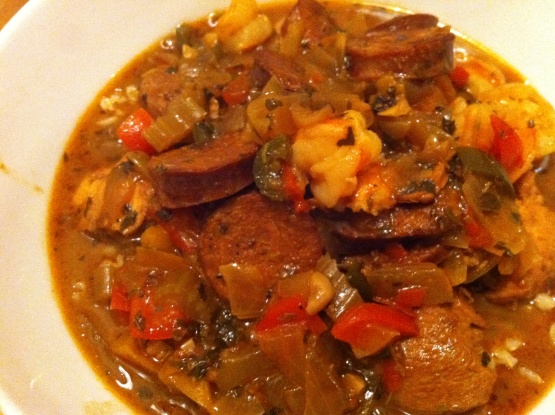 I've always loved the Gumbo and other dishes my Dad used to make, and in my efforts to try and figure out how he made them I've come up with this Gumbo recipe. It's incorporating several things from various recipes found here on food.com (such as how to make a roux!).

Wow, I'm addicted! This is a delicious recipe, and it's going to be on my menu at least once a month now. I'm on a gluten-free diet and this was easy to convert by substituting Bob's Red Mill all-purpose gluten-free flour for the regular flour and substituted butter for oil (maybe not as healthy, but delicious)! The roux still turned out great. I used pink shrimp and fresh basil, oregano and thyme, which all worked out wonderfully. Next time I'm going to try adding some okra.
Make a roux: Combine cooking oil and all-purpose flour in a small saucepan and heat on medium low for 15 to 20 minutes stirring regularly until it turns a chocolatey brown. Black lumps means you've burned it ;).
Meanwhile dice your vegetables and place them in the slow cooker.
Slice the sausages into discs and fry them until golden brown, add to slow cooker.
Cube the chicken and fry until no pink remains, add to slow cooker.
Pour roux over contents of slow cooker.
Add 4 cups of chicken stock to slow cooker.
Add spices to slow cooker, stir well.
Cook on low for 8 hours or high for 5 hours.
Optionally add cooked shrimp and heat for an additional 20-30 minutes.
Serve over a bed of rice prepared as per it's package instructions.