Slow Cooker Chicken Curry
Sageca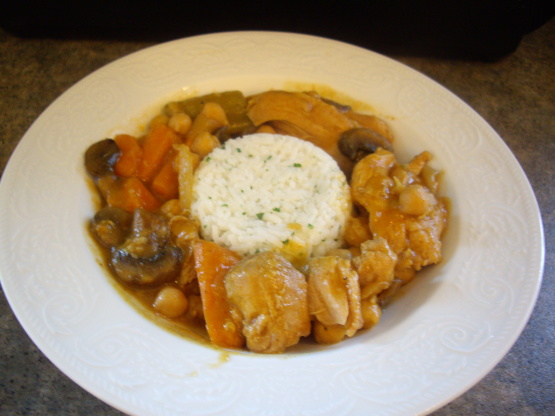 This is a combination of 2 recipes that I love. For a lovely presentation place the curried chicken in a large bowl as well as another bowl of fluffy rice. I often serve this with a bowl ot mango chutney..

This dinner was a winner! I used bone-in, skinless chicken thighs, omitted the green pepper and mushrooms (didn't have either), but otherwise I stuck closely to the recipe. I loved the addition of the chickpeas! This is great served over rice. Thanks for posting!
Lightly flour chicken and brown; transfer to slow cooker.
Sauté mushrooms and onion,garlic, curry powder, cayenne and spread over chicken. Add carrots, celery, raw potato, salt and pepper to taste;.
add chickpeas if using.
Add just enough broth mixture to cover ingredients.
Cook 6 hours or more on Low.
Add green peppers the last hour of cooking.
If necessary, thicken broth before serving by removing potato from cooker, mashing with some broth and returning to pot.
Serve over rice.