Slow Cooker Chicken Chili
Linajjac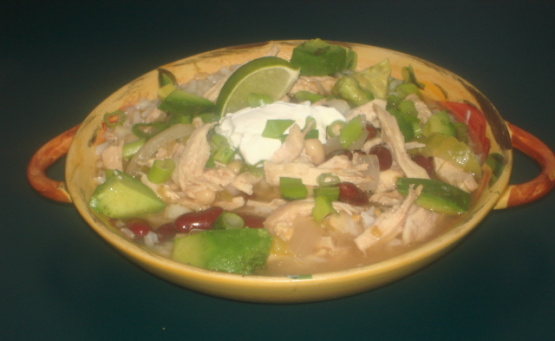 I found this in the local newspaper and can't wait to try it. notes from the author: Toasting the cumin and coriander takes a little time, but improves the flavor of the chili. Skip the step if it makes your life easier. If the chicken thighs have bones, go ahead and stick them in the slow cooker. The meat will literally fall off the bone after 8 hours of cooking, and you can just remove the bones with tongs and discard them. UPDATE: So I've made this twice since posting. Everyone loves it. The chunks of avocados on top really make this dish. Setting up a buffet of toppings makes this really fun for the kids. This is a must try for a cold day.

Very tasty. I used bone-in thighs and it was a cinch to pull the bones out after the meat had shred itself. Served with avocado and sour cream, it wasn't too spicy for the kids. It does stay 8 hours on high.
Turn a 3-quart slow cooker on high.
Place cumin and coriander in a small, dry skillet. Stir over medium-low heat until it smells toasty and spicy- about 2 or 3 minutes.
Combine it in a up with salt, pepper, oregano, paprika and cayenne.
Put onion, garlic and green chilies into the slow cooker.
Rinse beans, put them in slow cooker.
Sprinkle chicken thighs with cumin mixture and pile the chicken into the pot.
Add chicken broth/water.
Cover and cook 8 hours or so until the beans are soft and the chicken falls apart when you stir.
Serve with sour cream and spicy salsa.