Slow Cooker Char Siu Pork Roast
GIAD5330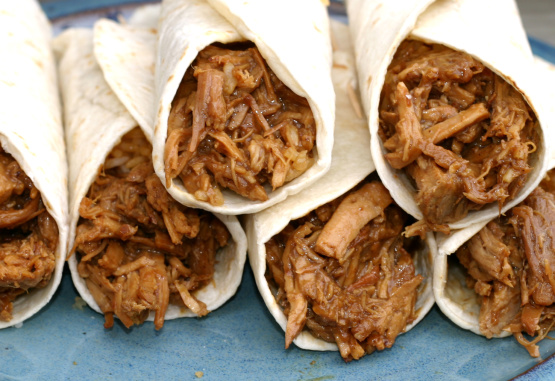 Chinese version of barbecue done in a crockpot. A great and easy way to have some asian flavored pork for dinner. From Cooking Light magazine.

This was so good and every one loved it. I made it for Chinese New Year. I cooked it the night before in crock pot so favors could marry. My husband tasted it and said "I have to wait until tomorrow to eat more!" I separated sauce and pork and put in frig. The next day close to party. I covered pork with aluminum foil and reheated pork in oven, then turned oven up and poured sauce over pork. (I thickened sauce in sauce pan on stove with corn starch) The heat helped to carmelize that yummy sauce. Then I put it back in crock pot for guests to enjoy. I followed recipe. The only change I made was to use agave in place of honey. Served with jasmine rice! Enjoy this simple recipe!
Combine first 8 ingredients in a small bowl; stirring with a whisk.
Place in a large zip top bag; seal. Marinate 2 hours, turning occasionally (can skip this step).
Place pork and marinade in slow cooker. Cover and cook on LOW for 8 hours.
Remove pork from slow cooker using slotted spoon; place on cutting board or work surface and shred.
Can thicken sauce and serve with meat.
Serve with sticky rice and some stir fry veggies.