Bayhill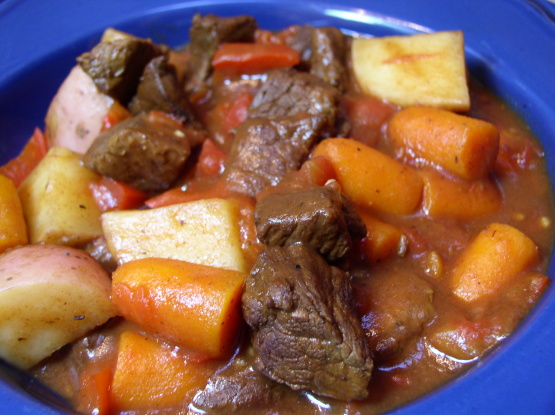 Simple & Delicious by D. Wenger

This was good, but a little bit too tomato-y for us. I had never had a beef stew with a tomato base before, so it was something different. My husband came in and asked me why there were a bunch of vegetables floating in tomato soup in our crock pot! He ate it and liked it though, so that's always good!
Cut beef steak into 1-inch cubes.
Cut carrots into 1 inch pieces.
Cut red potatoes into quarters.
In a large skillet, brown beef on all sides.
In a 5-quart slow cooker, combine the vegetables and pour tomatoes over top.
In a small bowl, whisk the flour, tomato paste, and broth until smooth.
Stir in salt, garlic, and pepper.
Pour into the slow cooker.
Top with beef.
Cover and cook on low for 6-8 hours or until meat is tender.