Slow-Cooker Beef Short Ribs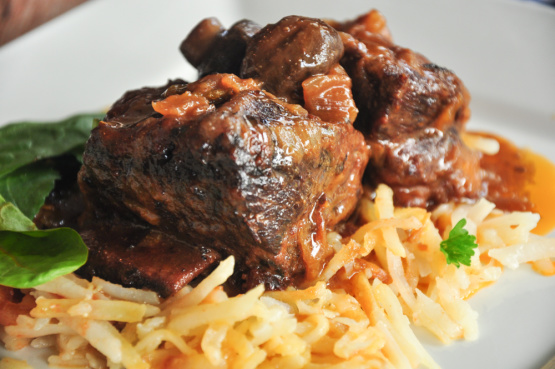 You won't believe how good these ribs are!!! I think we could have these every other night with no complaints! They're YUMMY!!!!
I found this recipe after making an impulse buy of bone-in short ribs late this afternoon. Being new here, I decided to try a recipe rather than use one of my own. This recipe looked interesting, but there was not enough time to cook them in a slow-cooker so I made them in the oven: 350 degrees for 1 1/2 hours. I made a few modifications to the recipe (besides using the oven and bone-in short ribs) which I shall definitely do again. First, I do not have a sweet tooth, so I drastically cut the amount of brown sugar. I decided to gradually add brown sugar to the rest of the mixture so I started with just under 1/4 cup brown sugar (packed a 1/4 cup measure to about 1/3" from the top). I liked the taste of the sauce with this amount so I stopped adding more. The other modifications I made were: 1. Instead of 3/4 cup wine vinegar, I used 1/2 cup wine vinegar and 1/4 cup cider vinegar. 2. The recipe calls for 1 cup beef broth. I used an entire can of double strength Beef Broth, 10 1/2 ounces. For preparation: 1. I browned the short ribs in vegetable oil. Using short ribs with bones, there is more fat in them (than in the original recipe) and I wanted to discard the fat before continuing with the sauce. 2. I put the ribs in a Pyrex dish large enough for the ribs to sit beneath the rim and stuck them in the preheated, 350 oven while making the sauce. 3. I poured all the fat/oil out of the browning pan, but left all the brown flour. To this I added 2 Tbs. butter and sauteed the chopped onion a bit while measuring then adding the other ingredients. The brown sugar was added last. 4. When the sauce was done, I took the ribs out of the oven, covered them with sauce, then tightly sealed the dish with tin foil. 5. After one hour I removed the ribs from the oven, removed all fat on the surface, turned the ribs over, then put them back in the oven for another 1/2 hour. I will definitely make these again. I'm pretty sure the short ribs would have been done in 1 1/4 hours, but I was disorganized and had forgotten to start cooking anything to go with them. Oh, I could not get all the sauce in the baking dish I used. I probably have about a cup left. I intend to marinate chicken pieces in the left over sauce then cook them on the grill this weekend.
Directions
Put flour, salt and pepper in a bag.
Add ribs and shake to coat.
Brown ribs in butter in a lg skillet.
Put in slow cooker.
In same skillet, combine remaining ingredients.
Bring to a boil, stirring.
Pour over ribs.
Cover and cook on low for 9 hours.