Slow-Cooker Beef Mushroom Barley Soup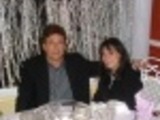 Super simple, but super delicious. It also smells wonderful while it's cooking.
Directions
In slow cooker, combine all ingredients.
Cover and cook on low setting for 5-6 hours.
Most Helpful
Very, very good soup. We used fresh onions, tossed a few chunks of carrot in and made sure we didn't use fast cooking barley. Enjoyed it with warm Cheddar Cheese Bread and will be making again!
Super easy as advertised. We found pearl barley in the bulk foods section of our supermarket, used some steaks we had on hand, and just left it through the workday. DH came home to a hearty pot of soup and loved it! Made for PRMR and the Belly Warmers event, Jan. 2009.