Slow-Cooker BBQ Pork Sandwiches
Walmart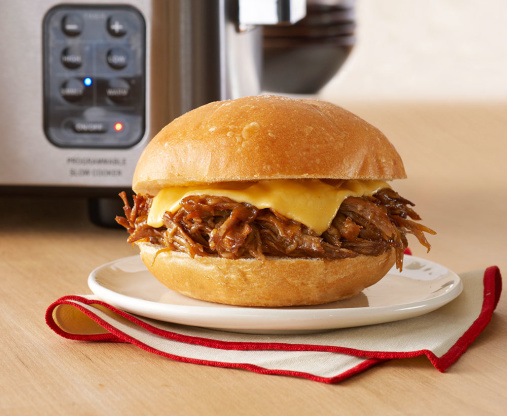 This BBQ recipe lets the slow-cooker do all the work. Low and slow leads to the tenderest meat, and the slow-cooker makes active cooking time almost nothing. Prep in the morning, serve in the evening and enjoy the day.
Place meat in slow cooker; top with onions and barbecue sauce. Cover with lid. Cook on LOW 8 to 10 hours (or on HIGH 4 to 5 hours).
Remove meat from slow cooker; cut off and discard excess fat. Chop meat into small pieces or shred with fork. Return to slow cooker; stir to coat with sauce.
Fill rolls with meat mixture and top with cheese single just before serving.
Tips: Feeding a crowd? Prepare as directed, doubling all ingredients. Makes 16 servings. For added color and texture, serve with a mixed green salad tossed with your favorite Kraft Lite Dressing.
Variations: Substitute the barbecue sauce: Prepare using Kraft Hickory Smoke Barbecue Sauce, Kraft Sweet Honey Barbecue Sauce or BULL'S-EYE Memphis Style Barbecue Sauce.