Slow Cooker Arroz Con Pollo
Rita1652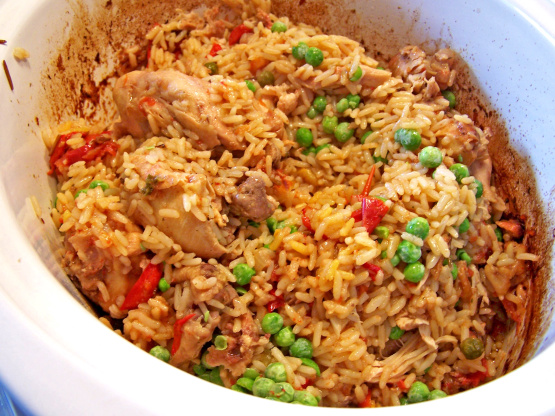 This was Great... would suggest to toss the rice in last after chicken has been cooking a while... I prefer not so mushy rice! To each his own... if you prefer mushy rice put it all together. I also omit the peas (peas are yucky-lol :).

I used 1 box of the rice as suggested and 1 box of fiesta rice by Goya. Replaced the garlic salt with 1 teaspoon garlic powder because the box rices have plenty of sodium and I want to keep that down. Used 1 large red bell pepper. Added the rice 30 minutes before serving and peas just before serving . The chicken does end up fall apart tender. I cut back the cooking time to 5 hours on low. Thanks
Combine all ingredients in the cooking vessel. Stir well. Cover and cook: Low-8 hrs (or) High-5 hours.