Slow Cooker 4th of July Chuck Roast Barbecue Sandwiches
Ri3603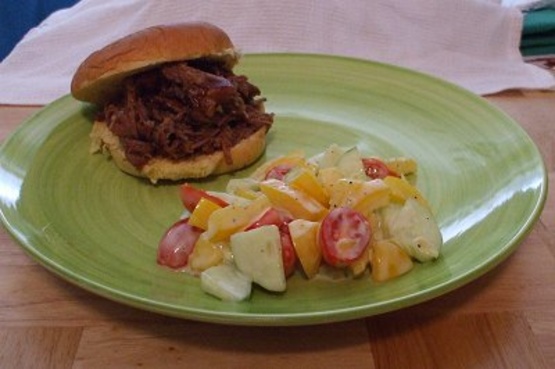 I made this for the 4th and it was an easy dinner to put together while my family was able to spend some time together. It doesn't have to be cooked just for the 4th of July.

Top Review by davelj
Made this for labor day, a little unsure if it would pass for pulled pork barbecue sandwiches. My wife was questioning everything I was putting in the crock pot. I used boneless beef roast that I had on hand plus spices that I thought might work, When I use the crock pot I like to experement. This recipe got me out of slaving over a fire pit to make brisket for pulled pork sandwiches. This was very tasty and a breeze to make, Give this time saver a try
Place roast in a 3 1/2 or 4 quart electric slow cooker; add onion.
Combine cola and next 7 ingredients; cover and chill 1 cup sauce.
Pour remaining sauce over raost.
Cover with lid; cook on High for 1 hour.
Reduce heat to Low; cook 8 hours or until roast is very tender.
If time doesn't permit, you can omit cooking it on High for 1 hour.
Just add two hours to the Low cooking time.
Remove roast with chopped onion from cooker using a slotted spoon and shred meat with 2 forks.
Combine reserved sauce, ketchup and butter in a saucepan; cook over medium heat, stirring constantly, until thoroughly heated.
Pour sauce over shredded meat, stirring gently.
Spoon meat mixture on buns.