Sonya01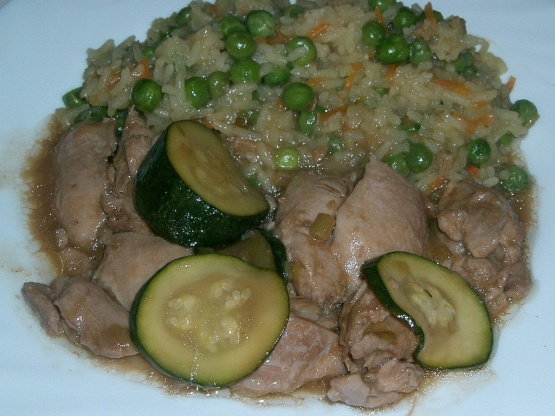 I found this on a New Zealand site.
Wow this is great. So easy. Even though it was a slow cook chicken the prep was quick and easy and u just popped it into the oven and forgot it till the timer dinged and added the zuccis and then just popped it back in for another 10 mins just time to cook the rice and done Yummy will be making this one again. cheers made for Edition 3: MAKE MY RECIPE—a game of tag!
Heat the oven to 180gC. Wash the chicken pieces, pat dry with paper towels and cut into 4cm chunks, discarding any fat in the process.
Mix the cornflour with enough cold water to make a thin paste and toss the chicken pieces through it.
Heat the oil in a casserole or heavy-bottomed pot and cook the chicken with the white part of the chopped spring onions and the ginger, stirring continually, until the chicken is lightly browned.
Add the three sauces and stock and stir to incorporate all the browned bits stuck to the bottom. Cover and place in the oven.
Cook for 30 minutes, pat the zucchini dry, add to the casserole and stir through, then cook for a further 10 minutes, or until the chicken is very tender.
It is unlikely to need seasoning, but check before serving on plain boiled rice, garnished with the chopped spring onion tops.