Bev I Am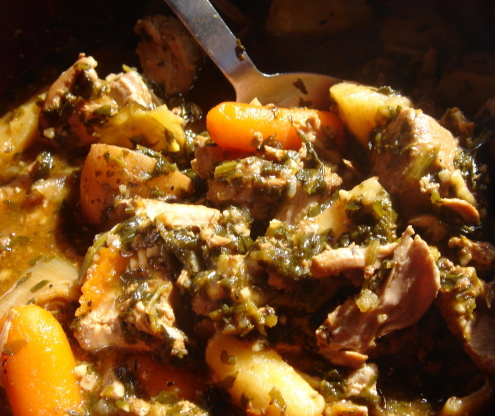 Always on the lookout for another tasty crockpot recipe, in trying this recipe, I was attracted by C. Barber's comment that "The pork and vegetables in this dish taste best when cooked slowly. The meat becomes so tender you can tear it with a fork." Sounded good to me! And I was not disappointed. The recipe I have posted here has been adapted from C. Barber's recipe in Prevention Healthy Cooking's 'Eat Up, Slim Down: Tried-and-true recipes and tips from real weight-loss winners' by Jane Kirby and David Joachim. Vary the vegetables - and adjust the quantity of garlic - to suit your taste preferences.

Top Review by WiGal
Tastes great! Timing was right on for me but did cut all the pieces as suggested. I reduced the black pepper to 1 teaspoon and did not have parsnips otherwise made as posted. Loved the 6 cloves of garlic! Served with Recipe#382235. Thanks bluemoon downunder for sharing. Made for Zaar Stars.
Place the pork in a crock pot, and add the carrots, potatoes, parsnips, onions, leeks, garlic, spinach, pepper, thyme and salt.
In a medium bowl, combine the vegetable juice, brown sugar, mustard and tapioca.
Pour it over the pork and vegetables.
Cover and cook on low for 6 hours or on high for 4 hours.
Note accompanying the original recipe: This recipe can also be cooked in a large casserole dish. Cover tightly and bake at 135ºC/275ºF/gas 1 for 5 hours without disturbing.
My Note: When I first came across this recipe, the reference to tapioca made me more than a little dubious. It sounded just a bit too nineteenth century, somehow smacking of grim British boarding school meals. Or something like that. Tapioca was an ingredient I had NEVER used, so I checked it out on the internet and learnt courtesy of Encyclopedia Britannica, that it (tapioca) was probably first harvested by the Mayans. And the sheer mystique of THAT connection was enough for me to give the recipe a try. I still haven't used tapioca in any other way, but I'm glad to have found this recipe. Tapioca and all!