Slow Cooked Moroccan Lamb Shanks
PaulaG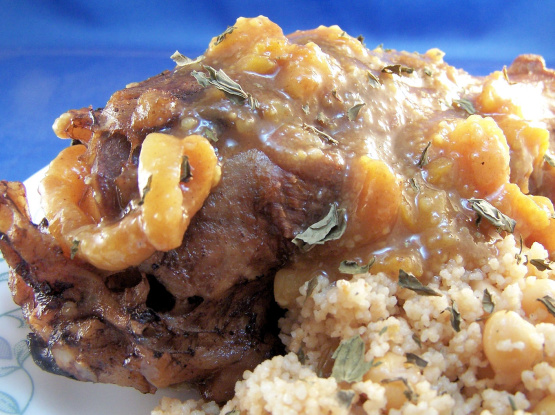 I have another recipe for Moroccan lamb shanks that we really enjoy, but I thought I would experiment a bit more the other day with some more flavours. We really enjoyed how they turned out and for us the flavour had just the right amount of spice. I cooked ours on the stove top on a really low heat for about 4 1/2-5 Hours and the lamb came out falling off the bone as lamb shanks should. I am not sure how long these would need in a slow cooker as I do not own one, so if anyone does them that way please let me know.

Top Review by Gagoo
Excellent, excellent, excellent - I wish I could give it more stars - the flavors meld together so wonderfully - a bit of bite, a bit of sweet melds so well with the lamb. I didn't have any shanks on hand, but I did have a boneless leg of lamb that worked so well - after 5 hours of slow cooking it was tender enough to separate with a fork. I also substituted chicken stock for the water. Served over jasmine rice as DH doesn't like cousous at all, rice only a bit better but I felt this needed to be served with one or the other. Can't wait to get some shanks and prepare this again. Thank you so much for posting my new go to lamb recipe Flying Chef :)
Heat 1 tablespoon of olive oil in a large pan add lamb and cook until shanks are browned all over.
Heat remaining olive oil in a large saucepan, add onion and garlic, cook until onion softens.
Add cumin, coriander, cinnamon, cayenne and ginger, stir until fragrant.
Add wine, water, stock granules, paste, honey and chutney, bring to the boil, add lamb shanks, reduce heat to low, cook, covered, for approx 41/2-5 hours, until lamb is falling off the bone, turn shanks several time during cooking.
About 10 Min's before the end of cooking, add apricots, stir to combine.
Remove shanks and cover with foil to keep warm.
Mix a little water with the cornflour, add to liquid, bring to the boil, stir until sauce becomes a gravy consistency, it will not be super thick.
I served ours over couscous and poured the sauce around the dish.