Slow Cooked Madras Chicken Curry (Crock Pot)
lazyme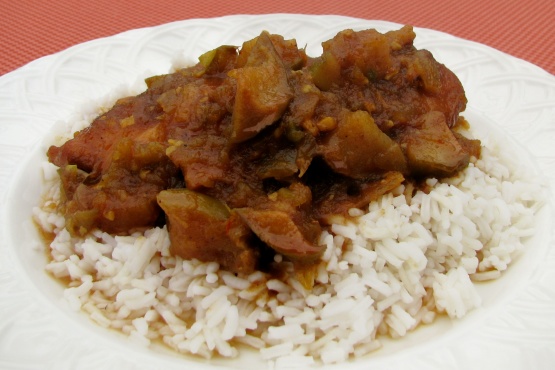 I do love my crock pot as it continually provides me with tasty and effortless meals. This began as a recipe found on about.com, but the changes are rather substantial so I feel comfortable calling it my own. There are as many ways to prepare curry as there are chefs who enjoy the spice blend which makes me a little apprehensive about posting this recipe. Your results will vary according to the curry powder and chutney selected so please adjust to your own tastes.

Top Review by Mandy
I made this a few weeks ago & froze it, thawed out the other day for dinner...the family was divided on this one... I loved the sweet curry flavour but hubby wasn't sold on it, he prefers a more "tongue burning" version...little miss drowned hers in cream to cut the heat...was lovely & simple to do..thanks for posting!
Lightly spray the interior of your crock pot with a light coating of cooking spray for easier clean up later.
Cover the bottom of pot with the onions, garlic and jalapeños. Top with the chicken breasts. (Please make sure the onions are finely chopped as the desired result is to have them melt into the sauce.).
Combine the curry powder, chutney, tomato paste and ginger together and pour over the chicken.
Place the apples on top.
Cook for 4-5 hours on high until the chicken is cooked and tender but not falling apart. Mix the sauce together so that all elements are blended. If you want a thicker sauce, remove the chicken from the crock pot and stir in a teaspoon or two of cornstarch and cook until the sauce is glossy.