Slow-Cooked Lamb Shanks With Lentil Ragout
Annacia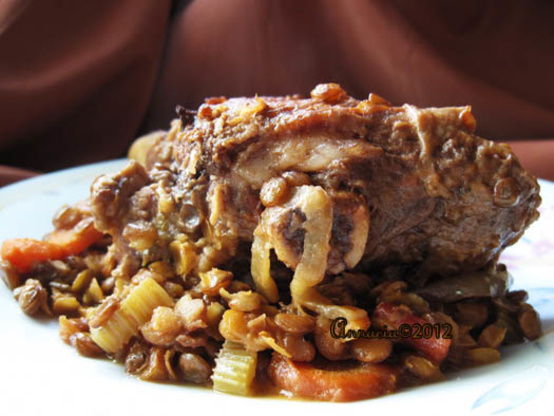 A magazine find that I plan to try soon. Our lamb shanks vary a lot in size, so you may need to serve 2 sometimes.

Top Review by ImPat
I scaled this back for 2 serves using 3 large lamb shanks weighing about 500 grams each (not frenched though), though I put more carrots, celery and onions than was called for and then did the initial 2 hours at 150C fan forced and at that point needed to add about 1/2 cup water when I took the lid off as the lamb was very tender then and then after 1/2 hour with lid off I removed from the oven as the gravy/vegetable mix was extremely thick and luscious and the meat was falling of the bones and I just left it on the stove top with the lid on to keep warm as I made up the rest of dinner. As I was serving the DM declared she was not hungry so I just told her to eat what she could, well she gobbled up the sides (recipe #262464), all the gravy/vegetables I poured over the lamb shanks and there was plenty and nearly half her lamb and asked for the left overs for lunch, the gravy/vegetable component could almost be a dish by itself, wonderful flavours. Thank you Jan, made for Make My Recipe - Edition 15.
Preheat oven to moderately slow (160c).
Toss lamb shanks in seasoned flour, heat oil in a large saucepan and brown shanks in batches for 4-5 minutes or until browned all over. Transfer to a plate.
Saute onion, carrot, celery and chili in same pan for 4-5 minutes until onion is tender. Stir through lentils, tomatoes water, wine and vinegar and bring to the boil.
Place the lamb and sauce mixture into a large oven proof casserole dish; bake covered, stirring a couple of times for 1 1/2 hours.
Uncover and cook a further hour or until meat is almost falling off the bone.
Stir parsley through and serve over mashed potatoes with green vegetables if desired.